April 13, 2022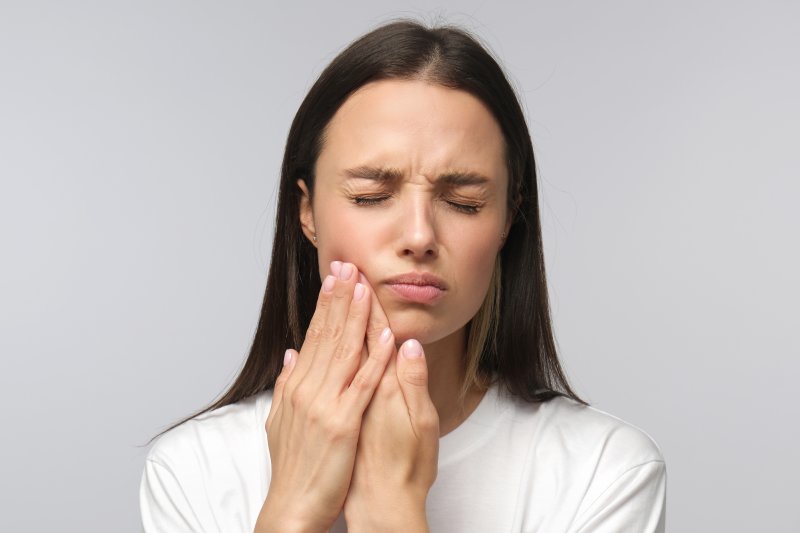 Have you ever experienced persistent pain, aching, or general discomfort in your jaw? Do you frequently notice a locking sensation or popping when you try to open your mouth? If so, it's likely that you're familiar with how painful TMJ disorder can be. The temporomandibular joint (TMJ) can cause a host of problems when it isn't working correctly. And while both men and women struggle with TMD (Temporomandibular Joint Disorder), women are more likely to suffer. Here's what we know about TMD and women's health.
The Link Between TMD and Women
A study conducted by the National Institutes of Health in 2005 found that the risk of developing TMD increased in women between the ages of 18 and 44. No correlation to age and the development of TMD was found in men.
The study also reported that TMD is often associated with changes to the nervous system—specifically the parts that affect pain and perception. It was noted that common TMD comorbidities were conditions more prevalent or exclusive to women. This includes endometriosis, fibromyalgia, irritable bowel syndrome, and chronic fatigue syndrome.
Why Is TMD More Common in Women?
Scientists are still unsure why women have higher rates of chronic TMD. It is theorized that sex hormones, specifically estrogen, affect pain sensitivity during the menstrual cycle. Research exploring how sex hormones may impact pain perception and jaw anatomy is currently ongoing.
Signs and Symptoms of TMD
While the specific symptoms of TMD can vary between individuals, these are some of the most common signs:
Jaw muscle stiffness
Clicking or popping at the jaw joint when opening or closing the mouth
Neck and shoulder pain
Chronic headaches
Limited jaw movement
Ear pain or pressure
How Can You Treat TMD?
Treatment of TMD depends on how serious the condition is. For milder cases, ice/heat application and avoidance of certain jaw movements and foods can improve symptoms. Hard or chewy foods like candy, apples, or bagels require more forceful chewing, causing more discomfort. For more severe cases, medications like ibuprofen or acetaminophen can ease pain.
It's important to talk with your dentist if you have symptoms of TMD. They will be able to diagnose you and rule out other potential causes of your discomfort, like sinus infections or abscessed teeth.
Remember that anyone can suffer from TMD. If you are struggling, let your dentist know so that you can find relief.
About the Author
Dr. Robert Dernick has been practicing dentistry since he graduated with his DDS from the University of Texas Dental Branch at Houston in 1979. He's skilled in general and cosmetic dentistry, his primary goal being to improve the quality of his patients' lives. If you have any questions about TMD or are experiencing symptoms, make sure to visit his website or give him a call at (281)771-1294.
Comments Off

on TMD And The Link To Women's Health: What You Need to Know About Jaw Pain
No Comments
No comments yet.
RSS feed for comments on this post.
Sorry, the comment form is closed at this time.