February 11, 2022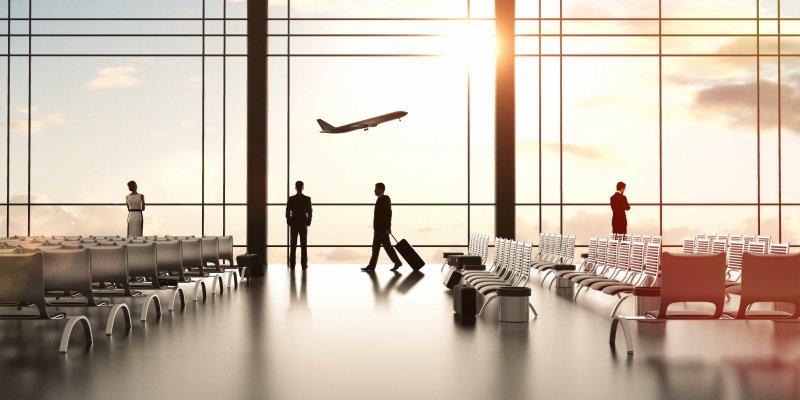 It's easy enough to manage sleep apnea with an oral appliance or a CPAP machine at home, but what about when you're traveling? It's important to make sure that you have access to your prescription when you need it, so you need to consider the situation carefully and plan accordingly. Below are 4 tips for traveling with sleep apnea; keep them in mind if you want to make your upcoming trip a bit less stressful.
1. When Flying, Check the Airline Guidelines
Any time you travel by plane, you want to confirm what's okay to take with you in your luggage. Oral appliances and CPAP machines can generally both be either checked luggage or carry-on items, but the standards might be different depending on the airline you use and whether you're traveling outside the country. It's best to check your airport's specific guidelines at least two weeks before your flight so that you have plenty of time to plan accordingly.
2. Keep Your Prescription with You as Much as Possible
No one ever plans to lose their luggage at the airport, but it happens far too frequently. To be safe, you should keep your sleep apnea prescription with you at all times, which means carrying it onto the plane whenever possible. An oral appliance can easily be stored in a purse or a large wallet, although you should keep it in its protective case at all times.
3. For CPAP Machines, Check the Power Supply
If you rely on a CPAP machine for a good night's sleep, you'll want to make sure that you can actually use it once you get to your destination. When traveling outside the country, bring a universal power adapter with you in case your destination doesn't use the same voltage or adapters as the United States. It may also be a good idea to pack extension cords so that you can use your CPAP machine even if there isn't an adapter close to the bed.
4. For Oral Appliance, Pack Your Cleaning Products
Oral appliances need to be cleaned regularly for oral hygiene purposes, and it's important not to break this routine even when traveling. Make sure you pack all of the necessary cleaning products. Your airline may have specific requirements for how big the containers can be and how many you can bring with you, so be sure to double-check.
As long as you make the proper preparations and pack carefully before you leave, you should be able to have a fun, relaxing trip while keeping your sleep apnea under control. If you're wondering if there's anything else you can do to prepare, talk to the sleep dentist or doctor who gave you your prescription to see what advice they might have.
About the Author
Dr. Robert G. Dernick graduated from the University of Texas Dental Branch at Houston in 1979. He opened his first practice in The Woodlands in 1980, and today he's known as one of the most experienced dentists in the area. Today he puts a lot of his focus on providing non-invasive sleep apnea therapy in the form of custom-made appliances. If you're having trouble with sleep apnea or have questions about your sleep apnea treatment, get in touch with Dr. Dernick by visiting his website or calling (281) 783-3419.
Comments Off

on Traveling with Sleep Apnea? Stay Comfortable with These 4 Tips
No Comments
No comments yet.
RSS feed for comments on this post.
Sorry, the comment form is closed at this time.